Podere Poggio al Sole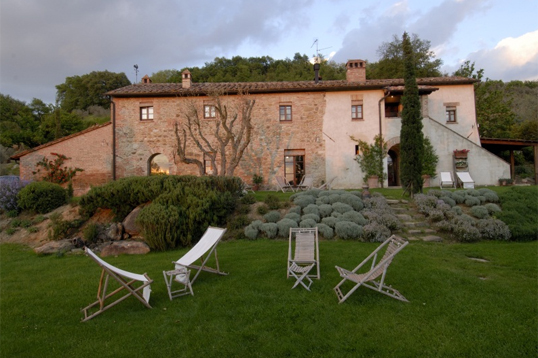 Address: Via Pietrose. 5
Locality: Montepulciano
Phone: +39.0578.717015 - +39.011.8983338
Mob.: 348.3537917 - 338.4454110 (Manola)
Web site: www.poderepoggioalsole.it
E-mail: This email address is being protected from spambots. You need JavaScript enabled to view it.
2 km. away from Montepulciano, the well-known town called "The Pearl of the l6th century" thanks to its artistic and architectural richness, lies "Poggio al Sole", in the heart of the green Tuscan hills, in a quiet and private location.
The house is surrounded by a large garden with a typical mediterranean scrub: flowered beds, roses, brooms, with a wonderful view which spreads out towards Montepulciano and its vineyards (which produce the good Vino Nobile), to the Valdichiana, to the medieval village of Montefollonico and the San Biagio church, by Antonio da Sangallo, one of the most impressive masterpieces of the Renaissance.
Montepulciano (Poggio al Sole) is the ideal setting for a relaxing holiday and for sightseeing tours in the area, from Pienza to Montalcino, Siena, Arezzo and Perugia.
Even villages such as Monticchiello and Bagno Vignoni (with its hot springs) will definitely worth a visit. Your ideal day could end with a visit to the Montepulciano Spas. in S. Albino, where you can combine relaxing rhythms and healthy treatments.
If you like trekking or long walks in the middle of a natural landscape, Poggio al Sole is the best place where you can start from.
Recently restored, Poggio al Sole includes the manor house where there are "Sughera" room and "Gelsomino" room, both with private bath, and three apartments, called "Ciliegio" and "Ginestra" (living-and bedroom) and the bigger "Pioppo (living-and two bedrooms).
Every flats, pleasent and extremely comfotable,has badroom, a bathroom with shower,a large living-room with sofas and a cookingarea with gas stove, refrigerator, microwave oven and pottery. Outside, our guests can stay in the garden on the deck-chairs or use the woddenoven, the barbecue and a swimming pool.