Palazzo Comunale di Montepulciano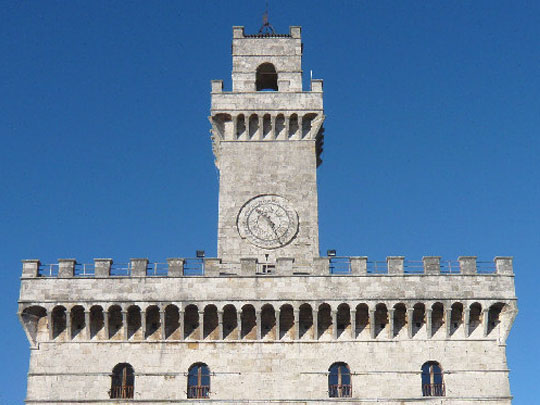 Address: Piazza Grande
Locality: Montepulciano
Entrance times: 10 am – 6 pm
Everyday starting from April until November (extraordinary opening on Christmas time)
Tower Ticket : 5,00 €
Terrace Ticket: 2.50 €
The City Hall overlooks the main square called Piazza Grande. The building was built on thirteenth century in Gothic style and during fifteenth century was renovated by the Medici's family architect Michelozzo. The similarity of this palace to the Palazzo della Signoria of Florence is amazing, in fact was built by order of Cosimo I of Medici's family.
From his tower you can admire a splendid view:
On clear days you can see, by the side of the Chiana Valley the pre-Apennine peaks, Perugia, the Mount Subasio, Trasimeno lake with its islands, and the Montepulciano and Chiusi lakes.On the other side of Mount Amiata, the Orcia Valley, Pienza, Monticchiello, Montalcino and in the distance, the towers of Siena.
At the entrance of the palace you will find the Infopoint Pro Loco where you can find any information regarding our city and its history.