Chalices of Stars in Montepulciano 2016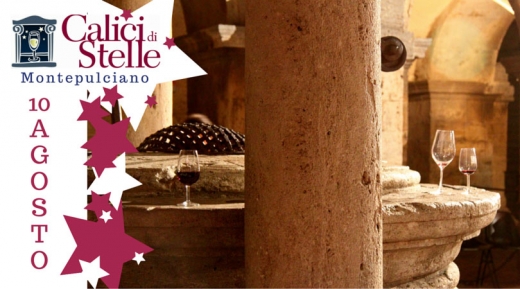 While a shooting star across the sky, between the walls of Montepulciano music expands in every alley, a chalice is filled with wine, and people drink a toast to the most starry night of the year.
The 15th edition of chalices of Stars in Montepulciano returns on time, even this year on August 10. One night to taste many different wines of Vino Nobile di Montepulciano DOCG and Rosso di Montepulciano DOC to cool the walls of the historic center of Montepulciano. In the works at this time the program.
The event promoted throughout Italy by the Wine Tourism Movement is organized locally by the Strada del Vino Nobile di Montepulciano and Flavours of Val di Chiana, in collaboration with the town of Montepulciano and the Magistrate of the Contrade of the barrel race through the.
For more information and discover www.calicidistellemontepulciano.it
The August 11 the party moves to Valiano.
Additional Info
Data:

Wednesday, 10 August 2016