Ercolani - The Subterranean City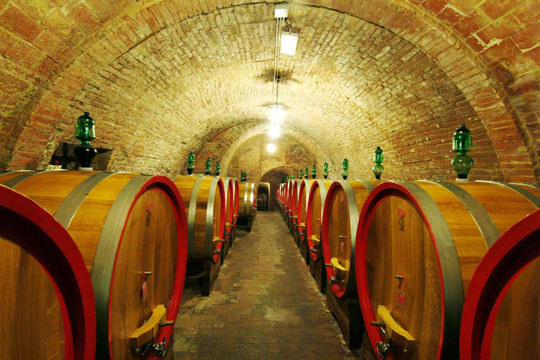 Address: Via di Gracciano nel Corso, 82
Locality: Montepulciano
Phone: 0578 716764
Mob.: 339 1403162/span>
Web site: www.ercolanimontepulciano.it
Email: This email address is being protected from spambots. You need JavaScript enabled to view it.
The Subterranean city, which was built on Etruscan tombs, was used as foundation for many important Renaissance buildings (Avignonesi, Del Pecora, Tarugi, Batignani). Tavola.

It has been preserved partly as ageing cellars for Nobile di Montepulciano wine in oak and chestnut vats and partly for a permanent exhibition of iron tools and instruments of Gothic-Renaissance times. Tavola.

Subterranean city-historical centre of Montepulciano Wine cellar for wine ageing, museum, Etruscan tomb and medieval path

The Ercolani's Farm is managed by the two brothers Marco and Carlo, young farmers for about twenty years. The farm extends 150 hectares, twelve of which are vineyards, two are olive groves and the rest is sowable land, grazing and wood situated on height of 450 metres above sea level.

Ercolani's brothers, carrying on their grandparents'farming activity, show their wine making experience in producing typical high quality wines making it possible to discover forgotten colours, perfumes and tasting, in respect of the tradition but also using new technology.

The soil where vineyards lay are partly clayey, partly sandy; vineyards are raised using the Guyot system and Cordone Speronato. The traditional local varieties of vines are Prugnolo Gentile, Canaiolo Nero, Mammolo and Ciliegiolo, used for the production of Nobile wine and Rosso di Montepulciano wine, other species of vines are used to produce Vin Santo and table wine.

Wine-making takes places traditionally in wooden, vats while the ageing is carried out in small oak barrels in the charming Renaissance winecellar at "the Subterranean city" situated along the historical centre of Montepulciano.