La Bruciata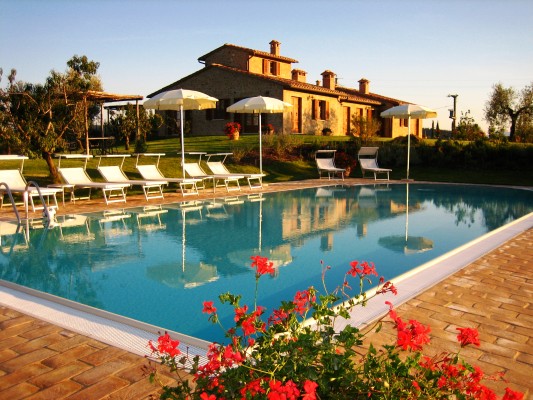 Address: Via del Termine 9
Locality: Poggiano - Montepulciano
Phone: +39 0578 757704
Mobile: +39 339 7815106 Laura
Web site: www.agriturismolabruciata.it
Email: This email address is being protected from spambots. You need JavaScript enabled to view it.
Our farmhouse La Bruciata is located 2 km from Montepulciano (known as"The Pearl of the 16th Century") in the direction of Pienza.

It is situated in a strategic and central position to visit the heart of Tuscany and takes its name from the farm located on the edge of the "Poliziano" territory, which faces the gentle and spectacular hills of the Val d'Orcia. The Artistic Natural and Cultural Park of the Val d'Orcia is a World Heritage Site where the dominant element of the landscape is a clay soil which lies bare forming the famous"lunar landscape" (Crete Senesi).

Nearby there are many picturesque villages rich in beautiful and artistic history: Monticchiello (which can be reached by foot along a path through the woods), Pienza, Montefollonico, Montalcino, Bagno Vignoni, San Quirico d'Orcia, Bagni San Filippo, Cortona. Also within an easy drive you can reach famous Italian cities such as Siena, Perugia, Arezzo, Firenze, Pisa, Orvieto, San Gimignano, Volterra, , and in less than two hours the magnificence of Roma.

The land here is unique, made so by all who have cultivated it with knowledge and love, from generation to generation, a land that is famously known throughout the world as "La Dolce Vita". From this earth comes natures bounty: the wines of Nobile di Montepulciano and Brunello di Montalcino, the extra virgin olive oil, Pecorino cheese di Pienza, the valued Chianina and Cinta Senese meat, as well as the inestimable artistic heritage of countless villages, abbeys (Sant'Antimo Abbey, Monte Oliveto Major Abbey and Sant'Anna in Camprena), castles, museums and landscapes. And if you just want to relax and focus on your well being, there are tours to the spas of Montepulciano, Chianciano, Rapolano, Bagno Vignoni, Bagni San Filippo, and San Casciano dei Bagni.

Thanks to its central position between the Via Francigena, which runs along the Val d'Orcia, and Lake Trasimeno, La Bruciata is the ideal starting point for many equipped trails for those who enjoy trekking, nordic walking, mountain biking or other excursion specialities and for those who are looking for breathtaking views and an ideal quality of life. Or if you just want a local stroll, we invite you to take a walk along the path to Monticchiello, starting from our farm, where you can enjoy the incredible sunset with stunning views of Pienza, Montepulciano and Monticchiello.

Our love of the earth and this countryside prompted us to create for our guests, a green paradise with a large garden of native flowers and plants, a place where you can relax reading a good book in a hammock near the old oak, or sip a glass of our local sangiovese wines on the travertine terraces while enjoying the delightful view of the landscape in front of you, or simply unwind in the shade of a flower-covered gazebo with a view of the magnificent valley.

La Bruciata offers the opportunity to enjoy many experiences, the well-manicured garden is also home to a beautiful swimming pool, fully equipped with sun umbrellas, tables and loungers for peaceful sunbathing by the pool.

During the week you can participate in any number of activities that we organize and you are invited to ask us about the various guided tours that take place around us: cooking classes, wine tours, tastings of olive oil or the famous pecorino, lots of activities to afford you a memorable Tuscan experience, combined with the local and natural food of our breakfasts and our traditional homemade dinners with the freshness of our products.

Our family has lived in Tuscany for generations and we look forward to offering you our hospitality, and helping you in any way we can, including answering any of your questions in English.

La Bruciata welcomes you to a refined and exclusive environment that preserves and reflects the warmth of a family.